By Sean Delaney
Steve Kidron, owner of Kitchen24 saw a need to feed Toronto.
The coronavirus pandemic had just begun, and shutdowns were the story of the day.
Businesses were shutting, community organizations were being forced to close, and many were losing employment or watching it change to a new normal that meant life wasn't sustainable.
Kidron knows what it is like to be hungry. He knows what it feels like to be unsure of where the next meal is coming from. When he first came to the big city, he came to it with very little. He sustained himself on the food he could find, and yes, that meant the occasional dumpster. This is not a man full of exaggerated sympathy. This is a man who has been there.
A driven man, Kidron did not wallow in his struggles, but rose out of them. Years of hard work saw him grow within the food industry, and an idea he had a little more than four years ago has seen him today grow a successful business that he is now using to feed others. It's full circle for Kidron, and something he is more than happy to work at and grow.
"It took me 11 months to put it together, close to four years ago," Kidron said of Kitchen24. "My background was in food. I was buying from major companies in North America and selling products to mom-and-pop shops basically. So when one of my mom-and-pop shops came to me and asked if they could use my facility to do some catering out of, because they didn't have a space of their own, I saw an opportunity."
Being in the food industry Kidron knew there were a number of businesses and services that could use their own space but didn't have the capital in place to acquire or maintain it.
And so, he created Kitchen24.
Kitchen24 is a 35,000 sq ft commercial kitchen with the capacity to cook more than 10,000 meals per day. It is operated by true lovers of food, and that passion has led to a space where like-minded culinary entrepreneurs can turn their dreams into reality.
"Kitchen24 aims to become an integral part of the Toronto and the Greater Toronto Area food community by creating a space for the community to learn and expand their passion for local food," the website reads. "Our vision is to create an inclusive, collaborative environment where anyone with a passion for food, can get access to the tools and support they need to succeed in their business."
More than just a rental space for those who may want to do anything from run a cooking class to putting together a product for their catering service, Kitchen24 is a food and cooking space for anyone in the food industry who needs a facility to operate within.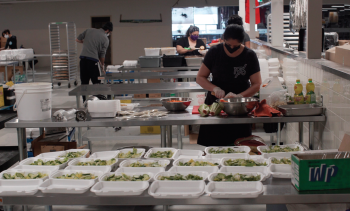 "We can have an unlimited number of companies and people working at the same time," Kidron said.
As COVID-19 became a reality, he felt compelled to act. Kidron began funding meals daily to ensure that no one gets left behind or suffers from hunger. To date, he has serviced more than 40 community organizations and has provided over 100,000 meals to those in need.
"There are many vulnerable residents throughout Toronto and surrounding areas that have lost access to social services and basic necessities due to COVID-19," he said. "Kitchen24 wants to be part of the solution by using our space, volunteers and resources to bring food to those who need it most."
Since quarantine began, they began making 500 to 700 cooked meals daily and donating them to nursing homes and shelters. However, they believe 500 is not enough. The facility has the capacity to create more, 24 hours a day, seven days a week and they plan to keep on going for as long as there are mouths to feed during this pandemic.
A GoFundMe account has been established with a goal of $15,000.https://www.gofundme.com/f/helpkitchen24feedtoronto
"In order to reach everyone that is currently struggling whether due to COVID-19 or pre-existing circumstances, we need your support," Kidron said.
A donation goes toward feeding those in need.
For a simple donation of:
$25 Feed 8-10 people.
$50 Feed 3-4 families.
$100 Feed over 30 people.
$150 Feed up to 15 families.
$250 Feed close to 100 people.
If you know someone who requires support or would like to donate time to make meals at Kitchen24, you can access the intake forms here https://sites.google.com/view/kitchen24intake
---------
For daily updates, follow them on Instagram
Kitchen 24 is located at 100 Marmora St #200, North York, ON, M9M 2X5
You can find them online at: www.kitchen24.ca