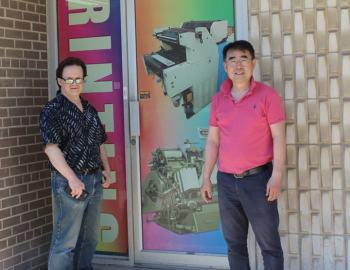 The Emery Village Voice recently sat down with Trans Printing owner and president TJ Kim as well as Graphic Artist, Roman Romaniuk.
EVV: TJ, tell me a little bit about your background?
TJ: I have worked broadly in the print industry since the early 1990s, and Roman's equally broad commercial graphics background began with community newspapers in the 80s, a few years before "Desktop Publishing" came along.
EVV: Trans Printing has proven to stand the test of time. Please tell us a little about your strengths?
TJ: Trans Printing straddles the technical divide between traditional offset lithography and modern digital printing. Many competitors have gone entirely digital, but they feel some types of jobs are best handled with traditional production techniques. Additionally, we can match exact Pantone spot colours on one or two colour offset press jobs, and provide quick turnaround on full-colour digital printing.
EVV: What type of printing jobs do you prefer?
TJ: We have a variety of offset presses, each suited to specific print products – NCR forms, hang tags, envelopes etc. Offset presses are more economical for medium to large-run jobs. We also have some of the latest digital presses, for fast turnaround on short-run black and white, or full colour jobs.
EVV: You provide some essential services, tell us about what you do and how business is during these difficult times?
Roman: I provide in-house design and prepress services to our customers. At Trans Printing we benefit from a broad customer base – both large and small, corporate and industrial clients. Some retail customers are struggling or shut down for now, but several essential supply chain businesses kept Trans going while they refocused more aggressively on marketing to new business prospects. Temporary loss of business means more time to market yourselves cost-effectively, to find new (overlooked?) business opportunities with existing clients, and of course to attract new clients. During the Great Depression, the businesses that survived and prospered even more after it was over must surely have had a similarly positive, can-do attitude. Postcard campaigns, ads in The Emery Village Voice, good old-fashioned cold calls, internet marketing, building e-commerce sites -- there are many ways to keep moving forward when challenged by hardship.
EVV: Any final thoughts?
TJ: Trans Printing hopes all Emery Village businesses will take some of these suggestions to heart. By applying ourselves diligently to every available opportunity, we can all come through this current health and economic crisis stronger than before. The Trans team can work equally well with customers face-to-face (with COVID-19 precautions of course) and by phone or internet. Trans Printing is happy to offer free shipping and a five percent discount to all Emery Village businesses.