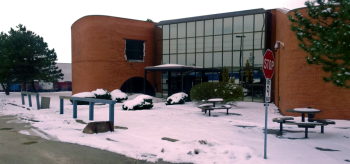 By Tim Lambrinos
Industrial revitalization in older areas like Emery is essential. And behind every project lies a window into our fascinating past. So many sites have already transformed to become new vibrant elements in the community, while others still languish in a state of decay for far too long. There's always going to be a potential of seemingly unlimited and nevertheless unfulfilled resources that can be achieved.
On Norelco Drive there stands the shell of a once proud building that is currently being dismantled - presumably in anticipation of a grand revival for a once thriving property. While no plans are presently known, hopefully things will happen soon.
The building itself served as a centre point of a very important operation in Bell Canada's history. This is where all loose change that was collected from Bell Canada's telephone booths was sorted and counted. In the field, Bell Canada's employees collected coin revenue by unlocking each pay phone with a unique key. Additional security measures included emptying the coins into tamper-proof boxes. These employees were also required to perform routine maintenance on phones. Visits to phone booths were made more challenging when homeless persons had established make-shift residences in them.
A building on Norelco was constructed in 1978 and designed to resemble a giant dial from an overhead view. It was known as Bell's Round Building. It had extremely high security protections. There was restricted access for any visitors to the administration offices in the front of the building and all access to the rear of the building had even more security checks applied.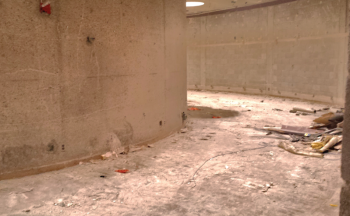 The interior of the Round Building was seemingly designed to be a drive-in bank vault, complete with windowless concrete walls and open parking for trucks. On the main level, coins were carefully counted before being sent down chutes to the basement vaults. There, the coins were rolled, shrink-wrapped and bundled onto skids.
The rear of the property was secured by a barbed wire gated fence that had a closed-system telephone so that only authorized trucks would be permitted entry into the compound. This is also where Brinks armoured trucks would enter the building to pick up the pallets of wrapped coins. Some of these vehicles had special safes built right into them. The skids would be raised from the basement on a conveyor belt and loaded into the armoured vehicles for delivery to the bank.
In addition to the shipping and receiving area there was also a mechanics garage for Bell's coin trucks. In its heyday, it was quite an operation.
This was all during a time when pay phones and phone booths seemed to be everywhere imaginable for consumers' use. This massive operation supported the pay phone industry that was the essence of public communication. Everywhere you looked; street corners, shopping centres, restaurants, ice cream parlours, barber shops, gas stations – you name it, they were there.
These days, there's not as much use for pay phones as there once was. Some current pay phones often go months without collecting a single fee. Even remembering the last time the use of a pay phone was necessary can be a challenging exercise. And today, it's hard to find an actual working pay phone let alone one that has an up-to-date telephone book. It would probably be easier, even expected, to ask any stranger to use their cellphone in an emergency and merely offer them a dollar in return.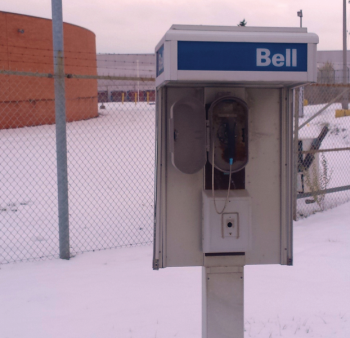 How has this happened? Of course, it's the expansion of the cellular network and mobile phones over the past twenty years that have sent the business of pay phones into oblivion.
The pay phone story began in 1881 when Bell Telephone Co. of Canada Ltd. installed its first public phone at Lance Field Stationary Shop in Hamilton. By 1893, Bell Telephone instituted iron boxes on some of their phones with a sign, "This telephone must not be used unless five cents is put in the box."
All of these collected fees on an honour system.
To connect to a call, the caller merely spoke to an operator who had to trust that the five cents was actually paid into the box in advance. Bell's pay phones eventually became fitted with coin insertion devices, and by 1929, Toronto's Union Station had numerous rows of telephone booths running right down the main corridor of the station. Times evolved and it became necessary for Bell to hire a series of telephone operators that could take calls from customers who were using pay phones. When necessary, individual tones could be heard electronically by the operator to establish what kind of coin had been inserted into the slot. Operators could even generate coin refunds to customers, in some cases.
Some pay phones were genuine profit centres. Toronto International Airport in Mississauga became a hotspot for pay phone revenue as many customers needed to make expensive international calls. These pay phones often needed to be emptied up to three times per day.
These days, Bell Canada has transformed itself into a modern company that provides internet, texting, television, mobile phones and still for some, the dying breed of home phone service.
Twenty years ago Bell's wireless enterprise was a paltry $3.8 billion business compared to $22.6 billion today. Pay phone revenue has declined over the past twenty years dropping from $466 million to just $27 million today. Only about a third of the 185,000 pay phones from twenty years ago are still in operation.
While security trucks are no longer coming and going from the former beehive of activity on Norelco Drive, hopefully, the property can be revitalized to once again become a proud and vibrant space.