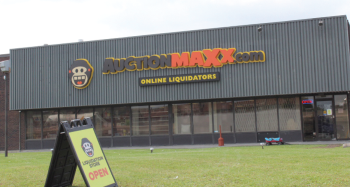 What a blast!
By Sean Delaney
Want to have some fun and save money at the same time? You need to check out Auction Maxx in Emery Village.They are an online liquidator of unclaimed, misguided and damaged freight, retail surplus, insurance claims and consignments from corporations and individuals.
Founded in 2012, the business started with a logical yet simple concept - to save both customers and clients time and money by combining the convenience of 24/7 online shopping, one location for consolidated pickup, and the expertise of liquidation professionals.By offering products on auction without any bidding reserves, buyer;s premiums, or pickup fees plus giving a 14 day money back warranty on most goods, customers and clients have a peace of mind included with great savings. Located in Toronto, they sell a variety of items from all aspects of consumer and industrial categories.
They have a weekly Wednesday night online auction and offer hundreds more goods for immediate purchase at a fixed price in their "Maxx Deals" section. Most goods online are available to be shipped to anywhere in Canada and the USA. Auction Maxx also has a retail liquidation store onsite selling their lower priced consumer goods.Even though Auction Maxx is primarily about saving money and time, their goal is to give each customer the best shopping experience possible. With the golden rule being their ultimate policy, they strive to establish long term relationships where they and their customers and clients look forward to seeing each other on a regular basis.
Auction Maxx is located at 200 Bartor Rd, Unit #1 or visit them online at: auctionmaxx.com or call: (905) 364.2261 or 1.855.364.2261