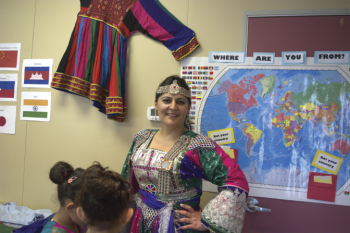 By Sayada Nabi
May's Asian History Month celebrates the sacrifices and traditions Asian Canadians have brought to Canada. In addition to commemorating the rich history we are also given the opportunity to grow as a community through sharing and learning about each other and where we come from.
On May 28 The Delta Family Resource Centre welcomed the community to come and experience the sounds, smells and sights of Asia. They started the event with a game, they provided the audience with mini-passports consisting of questions, and challenged passport holders to go around the centre to discover the answers. This is where they were given the opportunity to learn more about some traditions, and traits of some Asian countries.
There were presentation tables that introduced audiences to the cultural clothes, food and tools of each respective country. For instance Haimit Dhiami and Jaipreet Dhillion were on hand beside the display about India to discuss the items on the table.
"This is a good experience, we get to learn new things and have a new appreciation for them," Dhillion said. Their small replicas of bed sheet weavers, labeled charkha, and butter churn, labeled madhani, got the brunt of the attention. "We get to celebrate each other's differences," he added.
Another country that was present was Afghanistan. The table was filled with pieces of bright coloured clothing, and jewels that are native to the country. Nazi Karinzad, stood beside the table explaining to each passport holder the significance of each of the pieces.
"I am proud to represent Afghanistan here today," she said smiling, while wearing her cultural attire.
After the passports were filled the talent show was underway in a small overflowing room. Chairs were lined in three rows, some sat, others stood, kids ran around and the show was set to begin as a group of women took the stage. One woman took the microphone, the others formed a circle around her. Soon enough the woman with the microphone began to sing as the others clapped on beat, and chanted along. While dancing they created a rainbow with their garments and scarves fluttering in the air. It was a giddha performance, a popular folk dance in India where women demonstrate their grace and femininity through song and movement.
The next act took the audience in another direction. It was a demonstration of self-defence moves that wowed the crowd with high kicks, sometimes getting a little too close for comfort. Then came two young students with an upbeat Bollywood dance number, dancing to their hearts content. There was even an interactive yoga session the audience took part in. After the show the events of the evening ended with a feast.