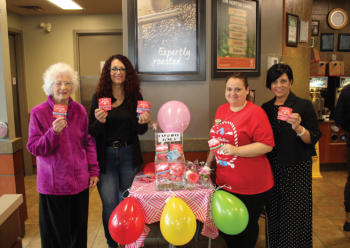 By Sean Delaney
Wednesday, June 5 saw the celebration of the 2019 annual Tim Hortons Camp Day in Emery and across Canada.
Camp Day is the one day each year when every penny from coffee sales at Tim Hortons Restaurants is donated to the Tim Horton Children's Foundation.
Tim Hortons Foundation Camps supports kids from disadvantaged circumstances between the ages of 12 to 16 at the time in their lives when they are determining who they will become as adults. Through a multi-year, camp-based program, they learn skills like leadership, resilience, and responsibility, allowing them to believe in their own potential and change their stories for the better.
Once again, our local Emery Tim Hortons at Rivalda Rd. and Sheppard Ave. were pulling out all the stops to make sure that they could maximize their contribution to this most worthy cause. Owner Ralph Shepherd, Manager Laura Kolokotronis, Sandra Farina and Luisa Di Santo of the BIA along with longtime resident Lee Jackson, were just a few that were on hand to help out with the festivities.
A big thank you goes out from us to everyone who helped to make this the most successful year ever.