By Sean Delaney
Alton Windows & Doors has a proven track record of experience with both commercial and residential window manufacturing and installation.
As a manufacturer of windows for more than 50 years, they can custom-make windows designed to fit any project's needs and budget.
Each Alton window is custom-built in its manufacturing plant to meet the exact specifications of any homeowner or property manager.
Alton-designed windows offer a wide variety of frame styles, colours, and tinting, which will complement any existing architecture.
When the time comes for replacement windows in a condominium, apartment building, or residence, consider that Alton Windows & Doors represents an investment of lasting quality and is backed by a first-class manufacturer's warranty.
At Alton Windows & Doors their mission is to provide customers with quality and innovative products which add style, comfort, and value to a home.
"We're excited to announce our 50th year of manufacturing quality windows and doors, said Alton owner John Paterra. "We're proud to have reached this milestone with a long history and commitment to service and innovation. Our reputation is based upon our mission – innovative design, unsurpassed craftsmanship, and excellent customer service. Our family has been manufacturing windows in Toronto since 1972. As a result of our extensive experience, we have been recognized by renovators, architects, builders, and homeowners as one of Canada's leading manufacturers of highly crafted windows and doors."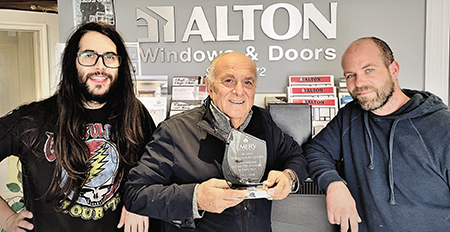 In closing, Paterra said on most streets in North York, it doesn't matter where you're going, you're going to find an Alton window installed.
"But we stay small and efficient, and love to serve the homeowners, the do-it-yourselfers, and we especially love to deal with the public," Paterra said. "It's been 50 years now, and I firmly believe that our honesty and integrity is what has kept us a popular choice."
Call Alton Windows & Doors first if you need window design, installation, or replacement.
Alton Window & Doors is located at 155 Fenmar Dr.
You can phone them at: 416-749-8282.
Email them at: info@altonwindows.ca
Or find them on Instagram: @altonwindowsanddoors