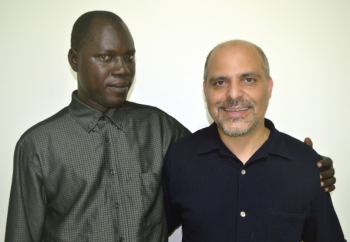 By Jonathan Sarpong
Clergyman, Pastor Richard Aggrey, will spend the next few months in Toronto, visiting with local churches and other religious organizations, spreading a message of hope and encouragement rooted in his experiences as a firebrand preacher in the Presbyterian Church of Ghana, West Africa. Pastor Aggrey is a well-traveled revivalist; his itinerary for 2015 has included frequent trips to Europe and a three month residency in South Africa during a period of great turmoil.
"I was in South Africa during the height of anti-immigrant sentiment in the country," Aggrey said. "As the attacks began to escalate, a small group of us came together in prayer—asking that peace, calm and understanding should rule the country. Within a few days the social atmosphere had changed – We really thank God that things reached a peaceful resolution. It is this message of peace that I've come to preach here in Canada to all who will hear."
Pastor Aggrey will begin his Toronto residency with a conference entitled "More Fire!" from July 10-July 12, at Humber Summit's Harvest Christian Church (196 Toryork Drive). The goal of the conference is to ignite a passion within individuals to serve one another and the community.
"We are just going to keep running the race," he said. "People are beaten down enough by life. Bills to pay, crime, violence, and all sorts of other problems. My goal is to reach people who are probably not typically going to go to a church, I focus on the good and the positive. Whatever your situation, God can bring you out of it."