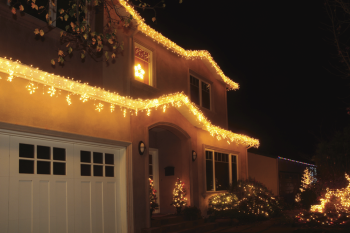 By Ron Lazzer
It's that special time of year when we start wishing everyone a Merry Christmas, Happy Hanukkah and Happy Holidays. It's the time of year when we get together and see family and friends we haven't seen often enough over the past year. We will eat, drink and be merry. Although we all celebrate the season a little differently there are enough common elements to unite us all. Let's look at some ways to celebrate this season by decorating our homes with style.
Nothing says Christmas more than a wreath or two placed outside your home. Place one on your door and choose a slightly larger wreath to bring your front entrance to life.
You can also hang a wreath on the front of your house. Simply fasten a hook to your wall and hang the wreath. Don't forget the red bow. The combination of green and red are evocative of the season. Also hang garland around your front door or around windows to highlight openings or frame a view. Since most plants are dead or dying at this time of year the greenery of your decorations will bring your home to life.
Are you lucky enough to have a tree around your house? If so, make it a focal point and decorate it with ornaments. There are now many ornaments of various sizes and styles designed for outdoor use. The effort you put in to plant that tree this past spring or summer as an accent to your home is now paying off. Just watch all the people that slow down as they drive by and admire your home.
Lights – the best part of this holiday. There are so many varieties and styles of lights to decorate your home. LED, twinkling, multi-colour, colour-changing, icicle, synchronized, the list is endless and when you start combining the different sets the possibilities are endless. Try hanging some on your eavestrough (make sure someone holds the ladder), wrap them around the trunk and branches of a large tree, string them along a railing or fence or decorate an evergreen tree in your yard. Just remember the idea is to use lights as an accent to your home. Instead of throwing them everywhere give some thought to how they will fit in with each other. You don't want it to look tacky, you want it to look magical.
Sound is another aspect most people don't consider and I don't mean keeping your neighbours up at night with Christmas music. Think jingle bells. Door hangers strung with bells that ring every time you open and close the door will remind you of those long gone days before everything had an electronic beep.
Let's celebrate this season with style and class. Put on a show and don't forget to wish passersby Happy Holidays, Happy Hanukkah, and Merry Christmas!
Ron Lazzer is the owner of Bellevue Landscaping. If you have any questions or comments please email them to: Ron@BellevueLandscaping.ca