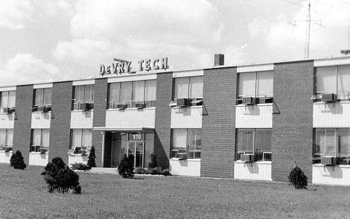 By Claudio D'Intino
According to the Canada Business Directory, Corporation Number 1569805 belongs to Devry Canada. It lists in its address history, 2201 Finch Ave West "5 October 1983 to 9 August 2001." The complete name was the Devry Institute of Technology.
Dr. Herman DeVry, starting in 1931, trained students technically in the areas of electronics, radio, motion pictures through the DeForest Training School in Chicago. It eventually expanded into television. The named changed in 1953 to the DeVry Technical Institute. DeVry started in Canada in downtown Toronto in 1956. An old print ad in July 1960 headline stated,"…prepare for a profitable and exciting future as an electronics technician." A webpage dedicated to the 1966-67 graduating class shows DeVry at 970 Lawrence Ave West that includes an old picture of the building.
DeVry is a for-profit post-secondary education institution. The TV commercials in the 1980's played repeatedly. The same commercials are up on YouTube. One is a 1983 commercial on Travis Doucette's Retrobox channel, showing viewers 2201 Finch Avenue West directly.
Other commercials advertise "We're serious about success" telling viewers to call a 1-800 number. A print ad in the June 1983 Electronics Today International magazine has a "Free Career Guidance Kit" that readers could request. DeVry offered a diploma program only and you had to go to the USA to get a degree.
In 1995, a large number of students that misreported their income to the Ontario student loan program forced DeVry to pay $1.7 million in fines and a bond of $2 million. In 1996, a class action suit was dismissed on technical grounds, where there were claims of poor quality of education and job preparation. In 2017, according to the website linkedin.com 2,245 alumni live in Toronto out of the 7,014 alumni across Canada. In late 2017, DeVry in the USA settled for $100 million with the Federal Trade Commission for false advertising. Some angry former students called DeVry - Defraud.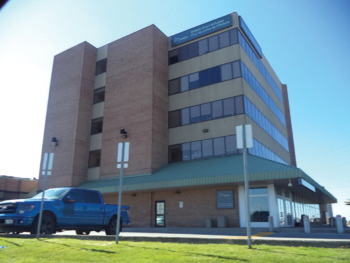 Here is what happened to some staff. Peter Dykstra, President for 21 years, went to Career College Canada. Peter Brown, President for four years retired in 2001. Larry Heinzlmeir, Regional Director for 15 years is now a marketing director in the cannabis business in B.C. Dean Rick Davey is with RCC Institute of Technology. Dean Bryan Bessner is now at George Brown College. Instructor Colin Kovacs is now with Faculty Partners' Network digital learning solutions. Instructor Jim Lyttle, retired in 2016 with the University of Minnesota. Instructor and engineer Manoj Choudhary passed away in 2015. Instructor and poet, Malca Litovitz passed away in 2005.
2201 Finch Avenue West has a couple of alumni stories. Jason Sharpe along with some students in 1996 started PC-Troubles installing Windows 95. Now Sharpe runs PC-Troubles in Kitchener and is a technician with Rogers. John Harrop runs Spacely Sprockets (Jetsons cartoon) in Guelph.
DeVry had locations in Scarborough and Mississauga.
DeVry Canada shut down its Ontario operations in 2002 and its Calgary location in 2016, mainly due to low enrolment. 2201 Finch Avenue West became the Ontario Court of Justice in 2007.