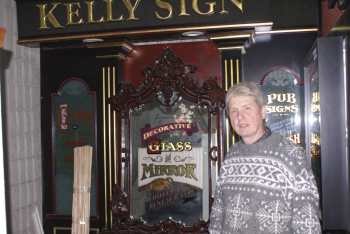 Two events make Kelly Sign the business and artistic success it is
By Sean Delaney
Kelly Sign Company began in 1982.
Owner Russell Kelly was inspired after a long trip to Europe – a year and a half to be exact.
He left jobs in the sign industry to travel the continent. But his chosen skill carried him well and he figured, "If I can survive there, I can survive in my own country."
So he returned to start the company, and Kelly Sign Company was born.
Kelly is a classic when it comes to sign making. He started in the industry when he was 14 years old and has never done anything else. He bounced between companies, before taking his fateful trip and has been a success story for 34 years.
An Emery Village favourite, Kelly Sign actually began in the Beaches area of the city.
Their expansion to Emery came through the initial deal that would also make the company what it is today.
Ontario Store Fixtures, a former Emery company, invited Kelly up to assist in the development of a prototype store for Victoria's Secret.
"I got a phone call a couple weeks after, and they threw an armload of drawings at me after going up there," he said. "I took it away, and could not believe the numbers I was coming up with."
These were big players, and Kelly felt he was still a little fish. He returned for what he thought would be a final board meeting to be greeted by a full board room of suits and was mortified to tell them he would not be able to handle what they were asking for. While he could do the work, he couldn't produce the numbers.
"I had five gilders, I would have needed 22," he said.
But they turned it around. The company was supportive, and literally wouldn't let him leave the offices until a solution was found. They funded an expanded operation in Emery Village and aided Kelly in getting the staff he would need to complete the contract.
"The seven week long project became a two year run," he said.
After the work was completed Kelly assumed he would return to his original shop, but the company left him the Emery Village location and he continues to do work for Disney, Coca Cola and others.
While he sees stiff competition in his business, with the advent of technology, he also sees a bright future. He enjoys Emery Village for its connectivity, and work with community groups like the Emery Village BIA.
"I'm encouraged to see the differences, to see the newspaper, signs that the area is being identified. If you can see physical evidence of efforts to identify and enhance an area, then it's going to pay dividends for everybody, and the more people that can get on board, the better will come out of it, that's what I believe."
And he knows there will always be a market for his type of quality.
"There will always be a small core of people who just wont be satisfied with digital print as end product."
Kelly Sign Company is located at 895A Fenmar Dr. just south of Steeles Avenue. Russell Kelly is a wonderful business leader and a first class artist. We wish him well in the years to come.