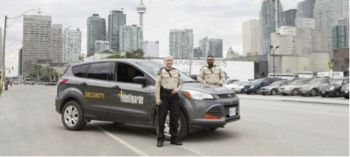 By Sean Delaney
For more than seven years, the Emery Village BIA has deployed a preventative mobile patrol program through a contract with Intelligarde.
Intelligarde has one of the largest mobile fleets of marked and unmarked patrol vehicles in the Greater Toronto Area. Their regional mobile support encompasses Hamilton, Ottawa, London and Winnipeg. GPS-equipped vehicles give mobile guards instant location and fastest call-to-arrival time. Patrols include short-term spot checks and sweeps lasting from half an hour to two hours.
Inspections are verified by electronic quality control monitoring with hard copy prints for customer verification and audit trail, the mobile division available for alarm response and support of static site guards.
The Emery program was originally designed to identify problem areas and deter illicit behaviour from taking place in the community.
A benefit to Emery Village is that Intelligarde's overnight security program provides continuous, high visibility mobile patrols by well-trained security personnel who are equipped to adequately assess and respond to security concerns. Each shift consists of three guards, patrolling separately throughout the BIA to ensure the safety and security of commercial, industrial and retail properties and assets. Many criminal acts have been prevented on hundreds of properties within Emery Village.
Intelligarde International uses 'Special Attentions' as a method of responding to habitual issues on specific properties. A special attention outlines a period of time in which a security officer will conduct an extensive patrol of a property to inspect the condition and order of the premises. By conducting an extensive exterior foot patrol of the property checking to ensure all doors and access points are secure and that no persons or vehicles are located on the property which are not directly associated with the property owner or business, they have been able to significantly reduce occurrences of theft, property damage, trespassing and public mischief on properties identified as in need of special attention patrols.
On August 8, 2013, routine patrols observed black smoke coming from a machine on the roof on Clayson drive. The Intelligarde Officer contacted Intelligarde dispatch, requesting Toronto Fire. Fire crews, along with EMS and Toronto Police, arrived on scene and completely extinguished the fire. No persons were reported injured and there was minimal damage to the building.
On September 18, 2013, routine patrols of several shopping plazas in the Finch and Weston area observed one male with a bicycle loitering in front of a closed business. Since the property manager had filled out a Trespass to Property Act Authorization form, the officer approached the male and noticed what appeared to be red coloured bolt cutters with black handles sticking out of the male subjects' pants. The Intelligarde Officer enquired as to what his business was being on the property and he responded "To grab a beer". The male subject was informed that all businesses were closed at this time and to leave the property. The male subject refused to leave. The Intelligarde Officer informed the male to leave the property immediately and that if he refuses to do so, he can be placed under arrest for Trespass, refusal to leave when directed. The male refused to comply and proceeded to inform the Intelligarde Officer to leave him alone. The male subject was then placed under arrest for refusal to leave when directed. Upon arrival, the male subject informed Toronto Police Officers that he stole the bicycle using the bolt cutters the day prior. Toronto Police took the male subject into police custody and he was charged for Theft.
Intelligarde officers have handled more than 15 arrests of subjects handed over to police on Emery Village member properties up from four last year.
They have dealt with 68 alarm calls, 12 B&E's (down from 19 last year), 28 unsecured premises found (up from 11 last year), 48 suspicious vehicles investigated (down from 98 last year), 53 police calls for investigation or assistance (down from 57 last year) and 32 suspicious persons (up from 23 last year).