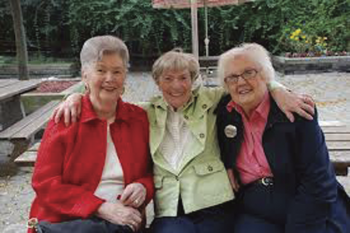 For 51 years, Norma Stenhouse gave her heart and help to Toronto's Humber River Hospital. Norma passed away in August 2013 but she remains the longest serving volunteer in the Hospital's history.
Norma Stenhouse was the 'Grand Lady' of Toronto's Humber River Hospital (HRH).
Often referred to as noble and elegant, she had an unwavering commitment to her hospital and an unselfish art for giving.
But as the longest serving volunteer in the Hospital's history – 51 years – Norma was also a visionary who anticipated the future needs of the Hospital. She helped to build the foundation for the extraordinary level of care and service Humber River delivers today.
"Norma Stenhouse leaves an inspiring and incredible legacy on our hospital and in our community," says Dr. Rueben Devlin, HRH President and CEO. "Humber River is honored that so much of Norma's life was shared with us; her amazing volunteer work; her dedication to the gift shop and her long history of fundraising with the Volunteer Association and Hospital Foundation are only a few examples of her remarkable contribution to Humber River," he adds
In over five decades of volunteer service, she undertook many roles at the Hospital and in the Humber River Foundation, including Clerk, Convener, President and Chairman.
Norma took her last breath at Humber River in August; but she will always remain the first Life Governor of the Foundation and a heroine at the Hospital she held so close to her heart.
From 1961 until 2012, Norma Stenhouse was an integral part of Humber River's history; helping to shape the Hospital's present and future. We thank Norma for her outstanding contributions and for exemplifying the best in care, community service and citizenship.
The 'Grand Lady' of Humber River Hospital will live on in the hearts of many people whose lives she touch
- Sarah Quadri Magnotta Senior Writer/Communications Specialist at Humber River Regional Hospital