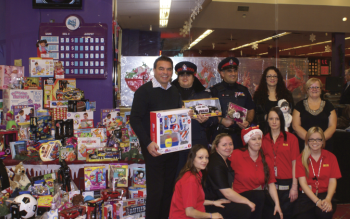 By Sean Delaney
Hats off to all. To the wonderful staff at Delta Bingo that helped to raise a mountain of toys for the 31 Division toy drive – we salute you.
Joan Morgan and her team of volunteers, along with a long list of generous patrons, surpassed the wildest of expectations. Auxiliary Staff Sergeant Alex Stefou along with Constable Amir Butt of 31 Division, both assisting with community outreach in the area, were on hand to accept more than 500 toys.
Three vehicles were needed to deliver the toys on December 16 and the early delivery meant they were ready for distribution to the wonderful area children well before Christmas.
Toy donations were also made by the Emery Village BIA. Sandra Farina, the Executive Director, along with newly re-elected Ward 7 Councillor, Giorgio Mammoliti both wanted to wish everyone a very happy holiday season and a prosperous 2015.
(Pictured :Top row Left to right: Councillor Giorgio Mammoliti, Alex Stefou, Amir Butt, Sandra Farina, Joan Morgan. Bottom row Left to right: Candace Rosier,Shawna Moss-Hurley, Shawna Trudeau, Samantha Jones, Alexandria Pace.