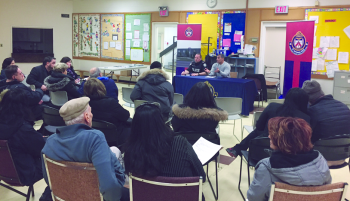 By Sean Delaney
Recently members of 31 Division held a meeting with local business owners, residents, tenants and representatives from Emery BIA. The meeting was well received.
Attendees explored options to reduce and prevent crime by adopting prevention strategies. Businesses were advised to take ownership of their properties by maintaining them and fixing smaller issues such as lighting, installing CCTV cameras, posting signage and improving parking and or controlling entry and exits of the plazas. The meeting will be followed up by a "Crime Prevention through Environmental Design" audit by Officer Butt and officer Brushett. Officer Brushett was pleased to let everyone know about the creation of a dedicated team of four officers for the Humber Summit area as well as a dedicated strategy to deal with the crime in the area.
Mark Tenaglia, Civilian Co-Chair of CPLC was also present, and spoke about positive community interaction with police as well as all of the benefits of it.
31 Division Crime Prevention Officer Constable Amir Butt can be reached at: (416) 808-3133