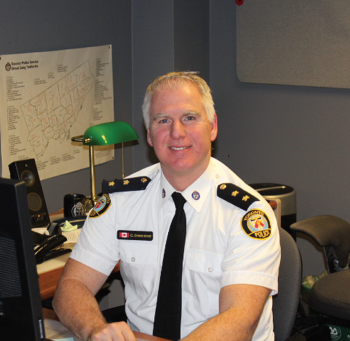 Colin Greenaway asks public to get involved
By Sean Delaney
Earlier this month, the Emery Village Voice sat down with 31 Division Inspector Colin Greenaway to say, Hello, and ask the Inspector if there is anything he would like to say to you, the residents of Emery Village.
CG: Thank you Sean.
First, I'd like to thank everybody, and you Sean from the Emery Village Voice, we really appreciate the notoriety and support we've had from everyone in the community.
From an Emery Village perspective, I want to congratulate the residents of the area for having an area that's very low on crime compared to the rest of our division.
Emery has a lot of great community members, and there is a lot of great infrastructure and industry in the area that is supportive of the village.
I would also like to tell people is that every three months we have a community police liaison committee meeting. What that is, is members of the community come in here to support the police. We try to solve crime problems together.
So the community will see crime, the police will see crime or community issues at large, and then we will try to find solutions together.
If you go back 100 years, when Sir Robert Peel was the first policeman of the times, his view was the community are the police, and the police are the community, and that's really the way we try to operate today.
I would invite you all to come to our community police liaison meetings.
Again, I want to thank you all for being great citizens of our division.
My name is Colin Greenaway, I am the Inspector at 31 division, and I am here to answer your questions anytime you like.