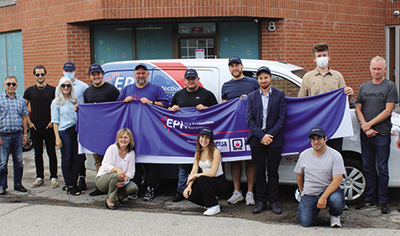 By Sean Delaney
EPI Fire Protection & Security is celebrating a 30th anniversary. And for any business to last that long, there has to be a story and a strategy that explains the accomplishment.
Jonathan Zafrani, General Manager of EPI, said while it's not an issue the average person may think about day-to-day, life safety is a key factor in the upkeep of buildings, the protection of property and the saving of lives. By providing the service with key company mandates in mind, Zafrani said EPI has not just been able to thrive but has grown.
"We've built a company that is 70 people now strong, had a lot of growth over the last couple of years based on hiring and having quality people in the office and the field who are experts in their field, whether it be fire alarm systems or sprinkler systems," Zafrani said. "And we offer quality service to clients and work with them as an advisor."
Reliability, quality control and good customer service is plain and simple what keeps the lights on, the General Manger joked. He pointed to public organizations they provide service for, and the level of expectation involved in that as showing off just what the company is made of.
They service many municipalities in the area and have maintained long standing relationships with the City of Mississauga, Richmond Hill, the Peel District School Board the Dufferin-Catholic School Board, and the York District School Board.
"These public clients have their own ways they want things done, and you need to have a system that can accommodate many different needs and stand up to the highest levels of scrutiny for any work you're doing. We would not be around for 30 years and have the healthy growing company we do if we couldn't deliver that."
And EPI is a company ready to innovate and expand their own services and potential to meet the advancement of technologies their industry constantly sees.
"In addition to knowing what you're doing with the actual work, I think the automation is a good example, providing that next level of service where a customer can go to an online portal and see the status of all their buildings," Zafrani said. "A customer can be updated in real time as soon as a job is done seeing a work order telling them exactly what was done at their building, this is the type of next level service customers are starting to expect so you have to be able to grow and modernize if you want to stay as a top-level company."
And Zafrani impressed that life safety services are not just something building owners and other property owners should look to add but keep updated themselves. At EPI he said, clients receive all the best available services with a staff that understands what their protecting.
"Buildings are worth millions of dollars and what's inside them are worth countless more and we understand that," Zafrani said. "Our employees live here, and love working here. You're not going to get lost in a big corporation, we've been on Arrow Road close to 25 years. You call here someone is going to pick up the phone and you're going to get service."
EPI is located at 800 Arrow Rd. Unit #8
You can find them online at: www.epi-fps.ca
Or reach them at: 416-746-2225