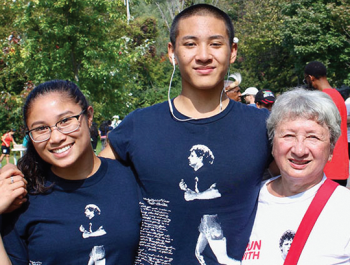 By Sean Delaney
Every year the Terry Fox run has been one of the most successful fundraising programs in Emery Village. Young and old, families and singles take the time to honour one of our most recognizable Canadian heroes, Terry Fox. And coronavirus won't stop that.
The Terry Fox Foundation is excited to announce that Canadians will continue to support cancer research through virtual runs from coast to coast-to-coast this September.
Fox himself once said, "Anything is possible if you try."
Forty years later, supporters will have to innovate as well – and it is hard to imagine anything Fox would appreciate more.
Please help celebrate the 40th anniversary of the Marathon of Hope by joining a virtual Terry Fox Run. On Sunday, September 20th. runners can unite in spirit, if not in person. You can participate wherever you are. Around your neighbourhood, backyard, down the street or around the block – walk, ride, run. Register as an individual, family, or a virtual team and start your fundraising effort.
Cancer research cannot wait for COVID-19 to be over and it is the 40th anniversary of Terry Fox's Marathon of Hope. Two good reasons to stay involved.
For more information or to register visit: www.terryfox.org