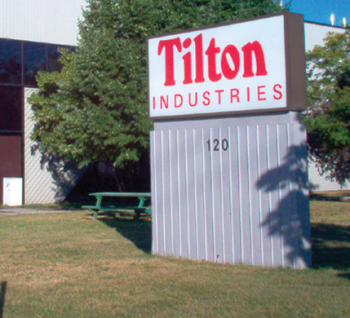 By Sean Delaney
Located behind the Esso gas station and CIBC bank at the northwest corner of Weston Road and Finch, 15 Toryork Drive was home to a couple of commercial businesses .
My mother, Anna Maria worked there as a factory machine operator at Ray Plastics Limited. When me and my brother, Fred went to Emery Collegiate in the late 1970's, my dad Luciano would pick us up there along with my mom, when she finished her dayshift at 3:30 p.m.
Ray Plastics, according to its website, "…is a contract plastic moulding and assembly company that has been in operation since 1952." Murray Spencer was its founder. He died at the age of 88 due to a fall, as described in the June 13, 2007 edition of the newsletter Plastics in Canada. Ray Plastics moved to a larger facility at 91 Westmore Drive in Etobicoke in 1980 and has a second plant at 111 Westmore Drive. My mother retired in 1991 after serving 25 years with the company.
Tilton Industries, started in Weston in 1977. They are "….applicators of sprayed enamel finishes, powder coat, and decorative stone and wood grain finishes." They moved from a 1,200 sq. ft. unit to 15 Toryork Drive in 1980. In the history section of their website, they write, "This 23,000 sq. ft. location boasted a series of 34 foot pretreatment dip tanks and a 50 foot inline bake oven. Tilton introduced automated spray equipment to the horizontal conveyorized process.
In 1987, Tilton Industries moved to 120 Summerlea Road in Brampton. This facility is about three times the size of 15 Toryork Drive.

Two other businesses called it home, Mattco Mattress Incorporated and Avante Furniture Designs Manufacture Ltd.
Today 15 Toryork Drive is demolished along with the Canada Post outlet next door. Solmar Development now owns the land with plans to build condo towers. A new road is planned to join Toryork Drive to Finch Ave through the Emery Works Yards and behind the Burger King.
Emery Village's original plan was to have the world tallest flagpole. It would have been nice on Canada's 150th year of independence this year. My dad passed away in 2004. My mom is 86 years young. June 2017 would mark 50 years living in Emery Village. 15 Toryork Drive will always be a special memory for me.