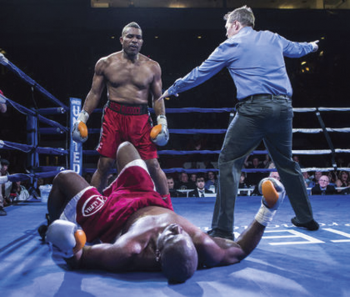 On March 28, 2015 at the Hershey Centre in Mississauga, 51 year old Donovan "Razor" Ruddock stepped back into the boxing ring after close to a 14 year layoff and knocked out former Canadian Heavyweight Champion, Raymond Olubowale.
"Razor" was pressed to draw inner strength from within himself to ultimately topple his larger opponent and score the knock-out.
He had been hurt by an overhand right-hand punch at the tail end of the fourth round and actually went down on the canvas for a count of five.
Instruction from his corner was received by Johnny and even his wife Tritcha-Anne and "Razor" came out for the fifth round smoothly bouncing on his toes.
The graceful movement appeared to surprise his opponent.
Wasting very little time, Ruddock used his movement to get close enough to his opponent and landed two of the most explosive uppercut punches in world history.
When the punches landed, perspiration from Ruddock's opponent was launched and propelled at ringside a distance of two feet straight upward.
His opponent was unable to recover from this ultimate display of power and "Razor" Ruddock once again notched a knock-out victory over another former Canadian Heavyweight Champion, bringing this total to four.
Donovan and Tritcha Ruddock's immediate goal remains winning back the Canadian Heavyweight title and even beyond. Congratulations from all of Emery and stay tuned.
Career Stats Total Fights 45- Wins 39-Wins by KO 30-Losses 5-Draws 1